A rich
industrial heritage
The origins of this magnificent mill date back to the Middle Ages.
The mill was built in 1608 by the diocese of Strasbourg, then destroyed in 1622 during the Thirty Years' War and re-built in 1629. At that time, the building, including its hemp press, already stood on two hectares of land, surrounded by meadows and gardens.

In 1854, all the buildings were let to Sébastien Clauss who was so attached to the place that he bought the remains of the mill after it burned down in 1868, and rebuilt it completely using the existing hydraulic power to create a sawmill.

So that the clients of this new mill would be as comfortable as possible whilst awaiting their turn, in 1874 his wife decided to open an inn, adding to their family's reputation for hospitality.
Sébastien's son, Charles, took over from his father, followed by Alfred, the grandson.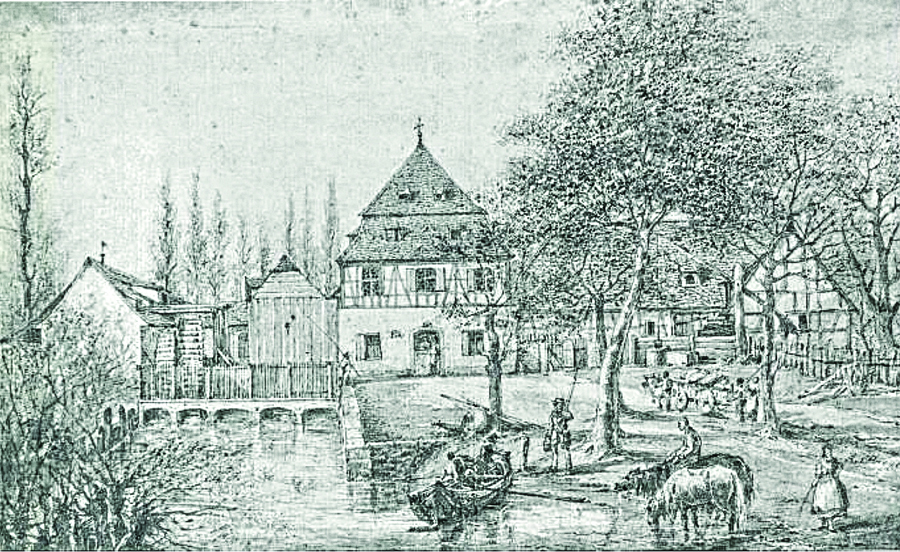 -----Le Moulin in 1832-----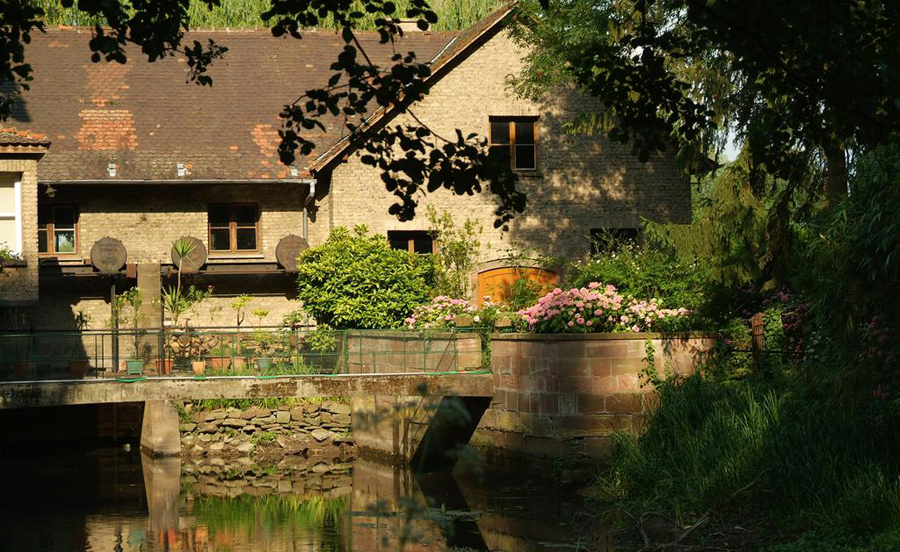 -----Le Moulin today-----
The original small inn, victim of its own success,
was soon transformed into a well-known restaurant.
But, in 1940, the Moulin was once again reduced to cinders by German artillery fire and was quickly rebuilt between 1941 and 1943. Alfred Clauss died in 1966 and with him the milling activities came to a definitive end in 1970. But by 1953, Alfred's son, Charles, and his wife Paulette, took over the restaurant and brought it back to life..
Because the Moulin has always been a family affair!
An exceptional and enchanting place to rest
Charles's son, Philippe, has successfully continued
the tradition of "running a gastronomic restaurant"
In 1981, the dormant mill was transformed into a hotel by Charles and Paulette's daughters, the miller's granddaughters, Béatrice and Andrée Clauss.
The business and the building were transferred to the new owners and managers, Carole and Régis Anthouard, in May 2018.
Every member of our staff at the Moulin of La Wantzenau understands and champions our ideology.
Every day, our team make every effort to provide a personalised and dedicated service. With their enthusiasm, good nature and kindness we endeavour to ensure a friendly family atmosphere during the whole of your stay.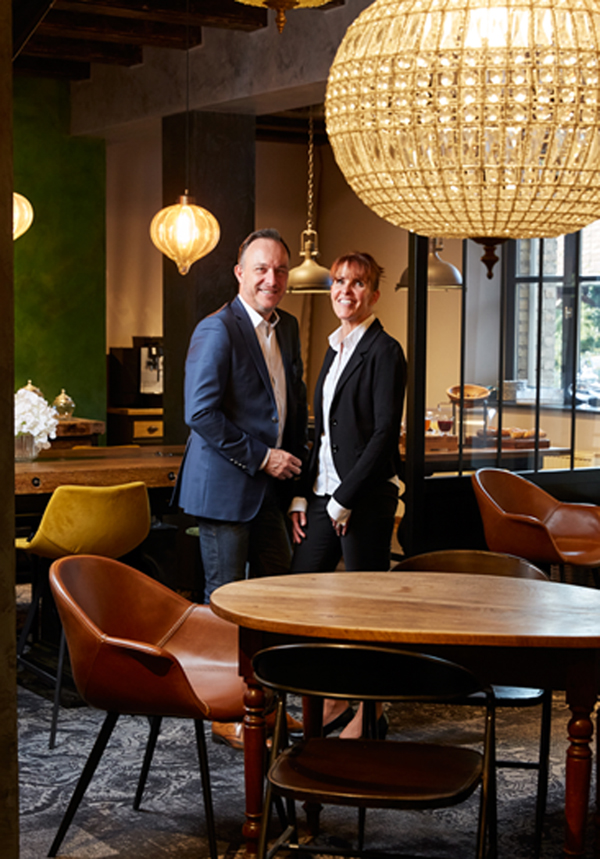 RÉGIS & CAROLE
Since 2018 they have managed the hotel and are perpetuating its history. Régis and Carole fell in love with the hotel and, passionate about the Moulin, work hand-in-hand to restore the grandeur of their beloved mill. They have renovated and decorated the hotel, created new interiors, such as the spa that will open in early 2021. They are dedicated to making your every visit a special experience!
MARJORIE
One of the lovely smiles that greets you on arrival! What does she like about the Moulin of La Wantzenau? The warm family atmosphere created by the whole team, the natural environment and its very special aura that she can already feel in the early hours of the morning… But mostly, it's seeing the cheerful faces of our clients as they find an undiscovered world!
CATHERINE
With her positive and zen attitude, together with her generous nature, Catherine's friendliness and creativity comes to the fore when she presents you with the refined, delicious and elegant breakfast table. What does she like most about the Moulin of La Wantzenau? The cosy atmosphere and unique character of our undiscovered world!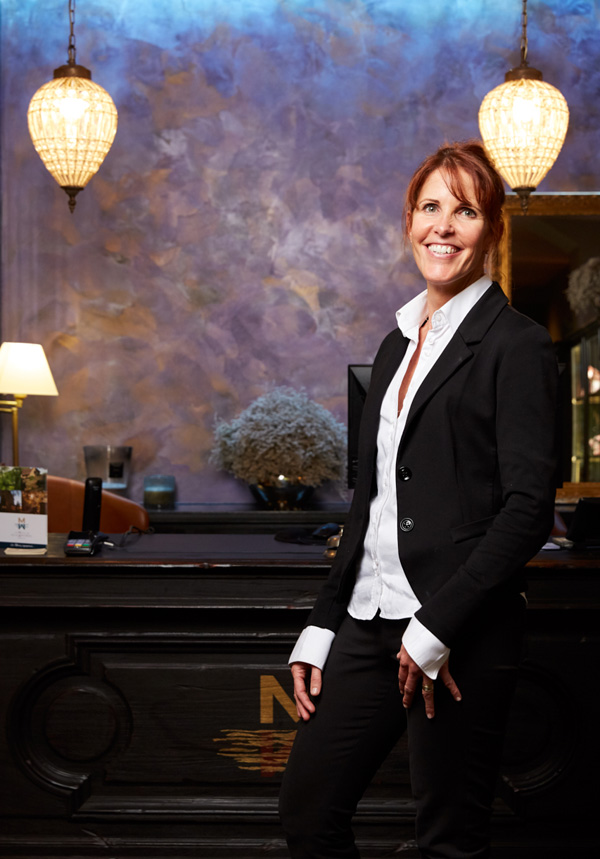 CAROLE
After many years of experience in the tourism industry, she dreamed of investing her energy and values in an establishment that was of her making. In her caring and passionate way, her stamp can be seen in the décor, the interior design, the special touches… What does she like most about the Moulin of La Wantzenau? Being able to welcome each client as a privileged guest and show them the hotel's undiscovered world!
---
LAKSHMAN
Another smiling face to welcome you each day. With his natural friendliness and affinity with the clients, he will take pleasure in ensuring your well-being during the whole of your stay. What does he like most about the Moulin of La Wantzenau? Meeting new people from different horizons, each one with their own story and world, who call into our undiscovered world!
VÉRONIQUE
Her strength is in ensuring everywhere is spotless and tidy! Whether she is getting your room ready or keeping a check on it, she will make certain that it is impeccable, comfortable and cosy! What does she like most about the Moulin of La Wantzenau? Being a keen hiker and traveller, it is of course the unique environment where land and water are united and which, every morning, gives her the impression of arriving in an undiscovered world!
ELODIE
She brightens up the days with her enthusiasm, warmth and open-mindedness. She will take every care in making up your room and is committed to it being perfect for the whole of your stay. What does she like most about the Moulin of La Wantzenau? The variety of her daily duties and closeness to the clients who are looking for a cheerful stopover in our undiscovered world!
DENITSA
In her compassionate, caring way and very positive approach, Denitsa makes a point of securing the finishing touches to her work to ensure your rooms are divine. What does she like most about the Moulin of La Wantzenau? The family and warm atmosphere of the hotel as well as its location in the heart of the countryside of our undiscovered world!
---